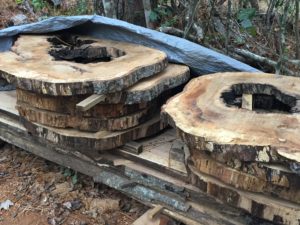 On a drizzly November 14, 2019, Fred Walters and David Campbell drove west past Shallotte in search of the Don Boardman (his real name), the Wood Hoarder of Shallotte (a title christened by him). It's a drive down 17 and a few turns to a minimally marked lane through trees and back to a barn, a slant-roof "shop" and a collection of stickered hardwood piles under tarps. Oak species, walnut, pecan, poplar and pine are all there, but most of the stock is rough and too wet for finish work. He has lumber that he picked up 10-20 years ago from various shops and distributors, and there are many planks with stabilizer clamps to minimize checking and twisting.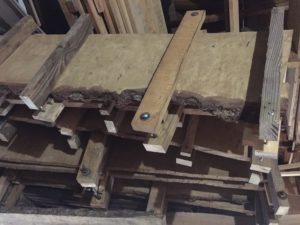 We were treated to a walk around of many recently cut trees that are air drying under tarps. A chainsaw mill is his tool of choice to produce 8/4 planks. His vision for most of his lumber is live-edge furniture that incorporates natural grain and growth features for legs. We saw no finished furniture, but his shop has three table saws, a large jointer and other stationary tools along with a 15-year-old tortoise from New Zealand.
Mr. Boardman is a kind man who told us several times that he did not intend to get rich but wished for his wood become nice things. He let us take a few pictures and said he would gladly host a group visit of our club members.  A man from Myrtle Beach drove up as we were about to leave, and he brought a couple end grain patterned cutting boards he'd made.  The workmanship was good and Mr. Boardman was delighted. We both bought a few pieces, so the promise to show finished projects will lead to a return trip before long.
David Campbell